[Gust] Atelier Ryza - Ever Darkness & the Secret Hideout Ver 1.02 (PC / Steam)
| | |
| --- | --- |
| Date: | 12/19/2019, 7:31:58 AM UTC+0 |
| Seeders: | 29 |
| Leechers: | 15 |
| Completed: | 2033 |
| Last scraped: | 1/20/2020, 3:50:58 AM UTC+0 |
Description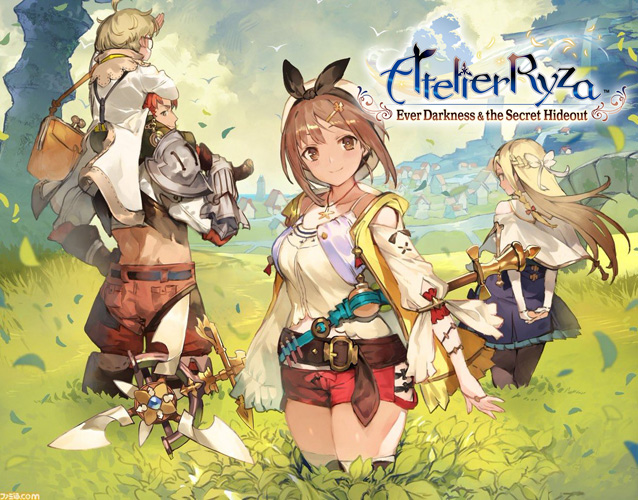 The concept of this title, the latest in the series to depict a new "Atelier" world, is "True-to-life youths that develop together, even if just a little bit".
It is the story of a girl and her friends who are about to become adults, discovering what is most important to them.
To depict the story of the main characters discovering things they've never seen before, we've created fields with natural shadows that allow you to feel the breath of the world. Graphics have been further enhanced, allowing for a world of daily-life and adventure to be depicted in a new way.
Main Points
■ Advanced "Synthesis" system & "Location Points"
The "Synthesis" system in which players combine materials to create items has been revamped.
Now, in addition to being able to understand the effects of synthesis visually, the system allows you to enjoy the experience of developing recipes more than ever before.
Also, we've included "Location Points" that players can create through synthesis!
■ Use different items to gather new materials!
When "Gathering" the necessary materials for synthesis, the items you receive change depending on the tools you use to gather them, so it will be easier to obtain the items you want.
■ Intense Battles
With a combination of turn-based command battle and real time elements, enjoy intense battles where the choices you make determine the outcome! It is a system that will allow you to sense the feeling of strengthening bonds with your friends more than ever.
Story
The Main Character Is Ryza, An Ordinary Girl.
Tired of boring village life, she escapes the village to gather with her good friends in a secret location to talk of their dreams and plan thrilling adventures.
One day, the determined Ryza and company decide to head for the forbidden "island across the shore" as their first exploration trip.
Together with the alchemist and other friends they meet there, they have a "summer adventure" that they will never forget.
---
Steam / US Website / Manual
---
Version 1.02 of Atelier Ryza standalone release because multiple files have been changed.
Game, patches, DLC and crack provided by CODEX.
If you have https://nyaa.net/view/1025163 and the ver 1.01 patch consider getting this to update. Make a backup of your save file.
Instructions:
Turn off anti-virus or allow exemption

Extract the iso using a zip program or mount it (requires 14.7 GB)

Run the setup.exe (mute or lower your volume trust me), (requires 19.48 GB), choose your target folder and any other settings and install when ready

Copy the crack from the CODEX directory to your chosen install directory

Once done open Atelier_Ryza_Launcher.exe to input your commands and play when ready


DLC's you'll receive when you start the game and enter your home, etc.

---

DLC released thus far
> Atelier Ryza: Ryza's Outfit "Divertimento Embrace"
> Atelier Ryza: Ryza's Costume "Summer Adventure!"
> Atelier Ryza: Hideout Parts "Pixie Forest"
> Atelier Ryza: Hideout Parts "Lakeside Hideout"
> Atelier Ryza: Costume Set "Another Fashion"
> Atelier Ryza: Costume Set "Summer Style"
> Atelier Ryza: Initial Dash Item Set
> Atelier Ryza: Extra Large! Rebuild Gem Pack
> Atelier Ryza: Season Pass "Kurken Island Jam-packed Pass"
> Atelier Ryza: Atelier Series Legacy BGM Pack
> Atelier Ryza: Stylish Weapon Skins - Ryza
> Atelier Ryza: Stylish Weapon Skins - Klaudia
> Atelier Ryza: Stylish Weapon Skins - Lent
> Atelier Ryza: Stylish Weapon Skins - Tao
> Atelier Ryza: Stylish Weapon Skins - Empel
> Atelier Ryza: Stylish Weapon Skins - Lila
> Atelier Ryza: Tao's Story "Interwoven Fate"
> Atelier Ryza: Lent's Story "True Strength"
> Atelier Ryza: Sunlight Flower
> Atelier Ryza: Elegant Mermaid
> Atelier Ryza: Muscle Volcano
> Atelier Ryza: Captain Tao
> Atelier Ryza: Ocean Dandy
> Atelier Ryza: Cool Selenite
> Atelier Ryza: "Ever Summer Queen & the Secret Island"
> Atelier Ryza: "The End of an Adventure and Beyond"
EXTRA:
ReShade MOD
ero character MOD nsfw
| File Name | Size |
| --- | --- |
| codex-atelier.ryza.ever.darkness.and.the.secret.hideout.v1.02.iso | 14.7 GiB |
| codex.nfo | 7.0 KiB |
| IGG-GAMES.COM.url | 196.0 B |
| PCGAMESTORRENTS.COM.url | 202.0 B |
| README.txt | 338.0 B |
Comments
No user comments have been posted.